news
new securetech multinorm catalogue
In line with growing demands from the industrial markets, ELKA has developed a series of high quality and certified work rainwear for optimum safety in the most exposed work areas. The products are available in the flexible and durable PU/ polyester material which combines a high tear strength with a natural elasticity and comfort. Furthermore, the SecureTech Multinorm collection includes products made in Oxford polyester for a 100% wind-, waterproof and breathable fabric. The products live up to a series of EN standards, all of which place high demands on the design and performance of the protective clothing. All ELKA products are certified at EU approved test institutes.
when only the best is good enough
At ELKA we work with a variety of materials such as PU, PVC, polyamide, polyester, microfiber and cotton.
Our know-how in production and materials is very important when starting a cooperation on special productions. But for many of our customers, it is also important that we have a flexible and safe delivery set-up. For almost 20 years we have had our own production plant in Lithuania and we have a good network in China, where the existing BSCI suppliers have been partners for many years.
In every collaboration our focus lays on the needs of our customer. We take pride in making quality products as well as providing delivery reliability and flexibility. In close partnership with our customers we are happy to share our know-how on design, construction, material selection and production. The degree of our involvement is up to the customer.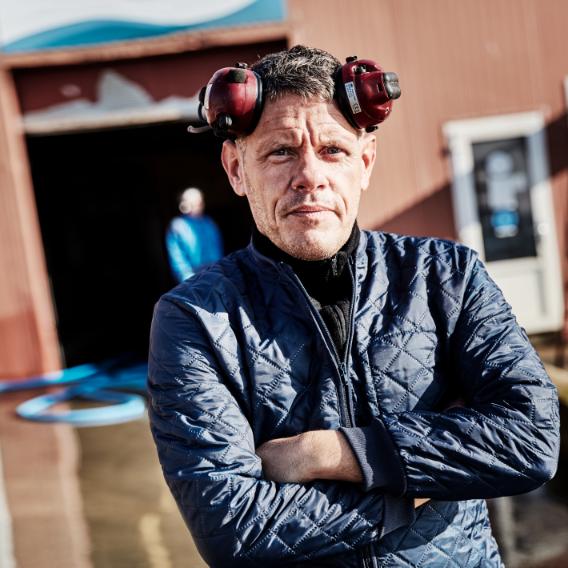 quality matters!
We develop the strongest, waterproof workwear on the market and quality assurance is key in our everyday work. We test the tear-resistance and functionality of our fabric. The most effective way to do this is through the relationship with our ambassadors. Our ambassadors field-test the products in an authentic environment during the development phase, ensuring that the products live up to industry expectations.

To increase our quality assurance in production facilities spread across several continents, we have developed a digital software platform. It is built around the military AQL standard and allows us to follow the individual productions worldwide confidently and carry out control of raw materials, production and shipping.